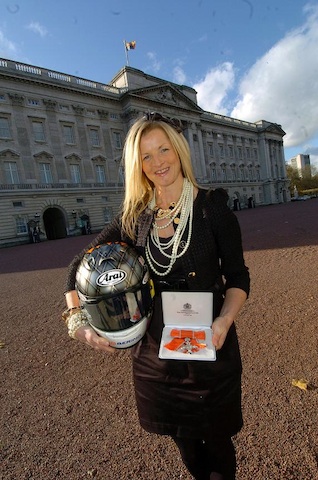 IRISH Supertwins Champion John Burrows will be joined in the Cookstown/BE Racing team this year for selected events by one of the fastest ladies in the world – Maria Costello MBE.
Burrows, having been selected by the Moira Motorcycle Racing Club to ride their Honda CBR600 RR in the Supersport class this year, decided to look for a rider to ride his own Yamaha R6, rather than leave it sitting idle in his workshop, and the Northamptonshire lady met all his requirements.
Burrows commented: "After Maria found out my R6 was available she made contact with me and after discussions I was delighted to welcome her to the Cookstown/BE Racing team. Maria will ride the Yamaha at the Cookstown 100, the Isle of Man TT and selected other national events after the TT. Before hitting the roads, Maria will get the chance to test the machine at Kirkistown.
"Maria is a very professional and fast rider and I'm certain she will be an asset to the team. It would have been a shame if the R6 had to sit and gather dust this season, it will be great to see it in action. I'm confident Maria will get some decent results on it and I'm sure her appearances on it will bring all my sponsors some extra exposure. It's a win-win-win situation. It's sizzling news as the team enters its second year with sausage producers Cookstown as title sponsor."
Maria Costello MBE is the second fastest lady ever around the famous 37.73 miles Isle of Man Mountain Circuit, only bettered by Jenny Tinmouth. Maria has lapped there at an impressive 114.73 mph.
The 38-year-old has also twice finished on the Manx Grand Prix rostrum. Maria was third in the 2005 Manx Ultra-Lightweight on a RVF 400 while last year she finished third in the Manx Classic 250cc race on a Bob Jackson Suzuki.
2012 will see Maria make her third visit to Cookstown and the previous two have not been without success. In 2010 she finished third in the Supersport 400 race while last year she was second to Tom Llewelyn in one of the Supertwins events.
In addition to the Cookstown/BE Yamaha R6, Maria will also ride a number of other machines this season. She will have a Pr1mo ZX10R, a 650 Kawasaki, a Team Classic Suzuki XR69 and the Jackson T20 Suzuki.
Maria said: "Joining Cookstown/BE Racing is a great opportunity for me. It's a team with a proven pedigree so I know I'll have a very competitive R6 underneath me. I'd like to thank Steve Wheatman of Hol-Taj and the European Shoe Machinery Company for making the ride possible for me."
Cookstown/BE Racing's number one rider John Burrows will have a Suzuki 1000 Superbike, a Kawasaki 1000 Superstock, a KBM Kawasaki 650 and the Moira MRC Honda 600 at his disposal this year. In addition to Cookstown and BE, he has also retained the financial support of H2 Engineering, the Joni B Supporters Club, Wayne Acheson, Cavanagh/Kelly, Kronos Audio Visual and Cookstown Caravans.
Maria would like to add a huge thank you for the continued support of her sponsors: Hol-Taj, Pr1mo, ESM, Ratech Racing, Rock Oil, Draper Tools, Arai, Vmtek Suspensions, Wilbers, Pirelli, Racing Batteries, Radicool, Jap4Performance, Skidmarx, NGK, EBC, HEL, GBRacing, 1 Off Design, Knox, The Image Works, Able Labels, Alpha Powder Coatings, Daytona, Racebikebitz, Stomp, Pipercross, Christian Baker, Dallington Racquets & Fitness Club, DnG, Sparkes Management Support, Stomp, B&C, Webtech Software, Bournemouth Kawasaki, Hope&Social, Sauls of Spratton & Wiz.
Find out more about Maria's 2012 racing plans at www.costelloracing.com
Follow the pizza race bike blog at www.pizzaracebike.blogspot.com
You can also follow her on Twitter @MariaCostello @TheTruckThat
Or download her FREE 'APP' for android phones here.
Related Articles
Share
About Author