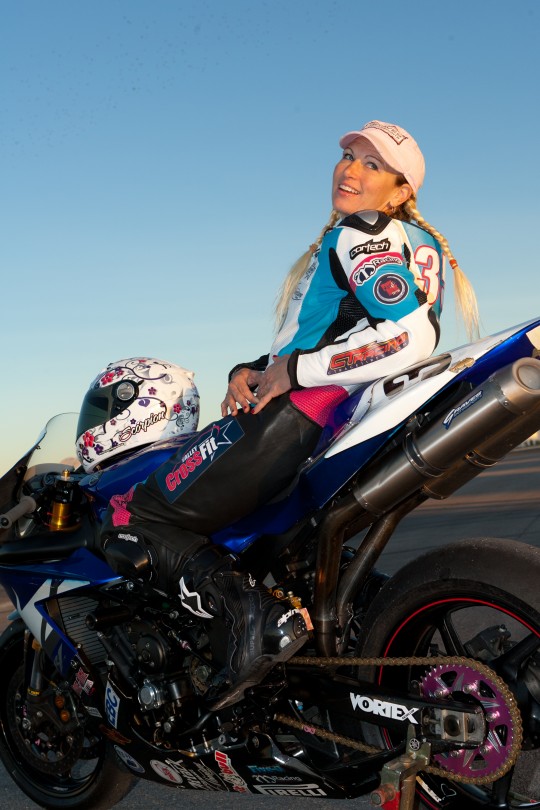 Greetings!!!  My name is Krystyna Kubran and I'm just thrilled to start contributing to this great website!  And have a chance to share the thrill of victory, the agony of defeat, and the wrenching tales of maintenance that is club racing on my 2006 Yamaha R1 =)
A little about myself… I'm a thirty-something girl who graduated from Cal Poly San Luis Obispo with a degree in Mechanical Engineering, and I work currently as a Product Development Engineer for Garrett Turbochargers – basically I design/build bad ass turbos for big ass diesels!  I just started this job in April, and moved to the San Fernando Valley from my previous job as a System Engineer at Diablo Canyon Nuclear Power Plant in San Luis Obispo.  Prior to that I built locomotives for GE!  That job was RAD!  I got to play with trains all day and build big ass diesel engines!  I'm kinda a motorhead

I love to workout, and staying fit for racing is my biggest motivation.  I love riding my bicycle – I pretend I'm on my race bike and zoom around everywhere, racing everything and everyone!  My strength is kept up by doing CrossFit, at Valley CrossFit in Van Nuys (valleycrossfit.com)  CrossFit = awesomeness!
How I started riding, going to the track, and racing…
I got my first bike while doing a 6-month co-op at GE's Diesel Engine facility in Grove City, PA back in 2001.  A co-worker sold me his 1979 Honda CX 500 – a shaft driven, 90 deg twin engine cruiser.  I spent the remainder of my days in Pennsylvania cruising around the country side, learning how to ride.  I'll never forget my first experience… on a two lane highway in PA… the sensation of opening the throttle, and getting up to speed.  I was looking around all wide-eyed… wow…. I'm going soooooooo fast!!! This is awwwwwesome!  Then I hear the roar of Harley pipes blow past me like I was standing still!  I looked down at my speedo…. 45 mph….
Upon returning to Cal Poly for my final year, I made friends with all the local riders, and decided the cruiser was not my kind of machine.  Being an active member in our college's Society of Automotive Engineers student chapter, and the competition of designing and building a mini Formula car – with an R6 engine in it – I decided the R6 was the bike for me!  It had an awesome engine!
While on Thanksgiving break in my home town of Redwood Valley, I celebrated my pending June Graduation with a brand new R6!!!!
My Dad and my brothers were just stoked!  My mom, not so much… she really liked the cruiser, and thought it was awesome that I was riding, but she didn't much care for the sportbike, it was quite hilarious because my dad had freaked out that I was riding in the first place! My parents are incredibly supportive of my riding, and they're now my biggest fans!
I talked my parents into purchasing a Level 1 day at Calif Superbike School as a graduation present – since they want me to be a safe rider and all
I made even more friends at school upon my return… I received multiple marriage proposals – the best being at a stop light.  I was referred to as a myth… that was interesting…  and all the crazy things that came from being a girl rider – especially back when girl riders were incredibly rare – there was one other girl on campus that rode, and only two others in the county!  I met a fantastic guy named Jamie who took me to my very first track day at Buttonwillow with Trackdaz.com.  And that was essentially the beginning…
My First Track Day
I was one of two girls riding that weekend at Buttonwillow.  This was now April 2002, and the sessions were two 30 minute sessions.  I recall vividly being passed by every single rider in my session
twice.
I still laugh at the pictures.  I have the most determined look on my face!  Apparently I improved so much over the weekend that scores of random track day goers came up to tell me they were so proud of me for improving so much over the course of the weekend. =)
Fast forward to June 2002, and I'm about to graduate from Cal Poly, and move to western Pennsylvania to start my first job with General Electric Company.  I had the pleasure of meeting many distant relatives in New York and the east coast while out on my co-op, so I called up my cousin John Buanno, who races with the Loudon Roadrace Series, to ask him what's what about tracks and track days.  Over the last several months I was going to the track a lot!  I had a boyfriend who owned a local motorcycle shop in SLO, and also worked for dP Safey School (now closed down).  My cousin Johnny said "the hell with track days!  You're coming racing with me at Loudon!!!"
… and there I was… on the grid at Loudon…
… Sept 2002… working in the garage of my townhouse apartment every single night to get ready for my first race.  My boyfriend, in SLO, was sending me parts and giving me advice.  Did I mention my only vehicle was a 1964 Ford F250, with an engine I built?  Oh, I didn't?  Well, yup, built my first engine at Sierra College in Rocklin (outside Sac), which is why I chose my race number to be 352 – the Ford 352 FE motor I built and put in the '64.  That old truck hauled me to my first track day – hence Trackdaz's Jimmy Avila giving me the nick name of Uncle Jesse because "hey, that's like Uncle Jesse's old truck!"  Which, if anyone knows trucks, Uncle Jesse, and the Duke boys had a truck that was well over 10 years newer than my '64

Racing Addiction…
My first race was quite an adventure, and there is no way I could've done it without my cousin Johnny and all his awesome race pals at Loudon.  Johnny stayed up all night finishing my bike so it would go through tech!
Upon watching the mob go into the turn one during my very first race, I quickly changed my goals to just finishing without being taken out or crashing!  I finished last in all of my races, and I did not even care!  I was absolutely hooked!  The next month, I came back, and actually beat one racer!!
Soon after that boyfriend became a fiancé, and moved out to Pennsylvania where we adventured around with Team Pro Motion, and started racing with Western Eastern Roadrace Assoc (WERA) in 2003.  My first big hospital stay came during the WERA National season opener when my man and I entered the endurance race.  A fellow racer hit me from behind, causing the bike to buck me off, and I landed 20 feet away in the dirt with a broken collar bone, 6 fractures in 4 ribs, fractured scapula, and a hole in my lung.  By Sept 2003 I was finally healed up and we went racing with the WERA Nationals at the brand new Barber track in Alabama!!  I actually finished in the middle of the pack in my races, and was just starting to drag me knee for the first time.
2004 found us moving back to California, and just thrilled that WERA had started a WERA West region!  No racing in 2004, but in 2005 we got married during the WERA West opener in Las Vegas, at the track with our leathers on.
Fast forward to 2008 and I've now had a best finish of 5th in the 600 novice class with WERA West at Calif Speedway in Fontana, running a 1:41 lap time.  By the end of summer 2008 I got a divorce, and sold my 600 GSXR race bike, and by November 2008 I was building my commuter R1 into a race bike.
For the tales in between, I would like to direct you to girlclutch.com/psycho-kitty where I contribute a monthly column.  This website was started by a girl friend who wanted to meet and help other women riders.  It has blossomed into a fantastic place for lady sport riders to meet other gals who ride.
I am thrilled to be contributing race write ups and my adventures to Female Racing News!!!  Stay tuned… the opening round of the season was January at AutoClub Speedway in Fontana, Calif!
WERA = WesternEastern Roadracing Assoc (wera.com) for more info on my primary series.  Other clubs in California include AFM = American Federation of Motorcyclists (afmracing.org) and Chuckwalla Valley Motorcycle Assoc (cvma.com)
Related Articles
Share
About Author