Courtesy of Pippa Man PR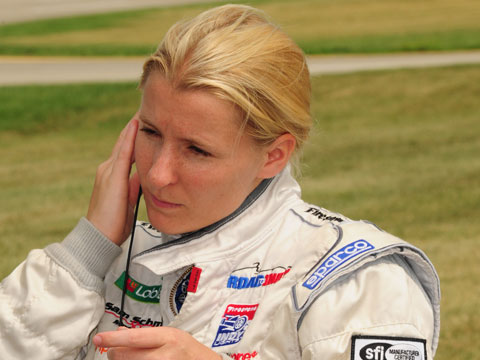 Pippa Mann has announced that she will be taking to the wheel of an IndyCar with Conquest Racing later this month, when the British driver tests with the Indianapolis-based team prior to the 2011 season. The one-day test is scheduled for Monday 28th February at Texas Motor Speedway, and it will be Mann's first outing in an IndyCar.
"It feels like it has been an extremely long off-season," said Mann, "and I can't wait to finally get back behind the wheel of a race car. We have been working exceptionally hard throughout the winter to put together a program for me to run in the IZOD IndyCar Series, and while our main focus has been on the Indy 500, we would obviously like to run as many of the 2011 races as possible. We are most likely now looking at a full oval program, which will hopefully bridge the gap to a full-time drive in the series in 2012.
"The upcoming run will serve as my rookie test for the IZOD IndyCar Series, and also work as good preparation for the program we are trying to put together. Eric Bachelart and Conquest Racing have been especially interested in what we are trying to achieve, and I'm extremely excited to have the opportunity to drive one of their cars."
Conquest Racing team owner Eric Bachelart added: "I've watched Pippa race in the Indy Lights series and she's constantly progressed over the course of the two seasons. I'm pleased to be able to give her the opportunity to drive an IndyCar for the first time and I can't wait to see how she will perform behind the wheel of the Dallara. From a team perspective it will be a special moment as she will be the first woman to test with us. I'm looking forward to it."
In 2009, Mann competed in the Firestone Indy Lights Series with Panther Racing, securing three top ten finishes during her debut year.
The following season she moved to Sam Schmidt Motorsports with whom she inscribed her name in the history books as the first female to win a pole at the Indianapolis Motor Speedway. That same year, despite breaking her hand during practice for the Toronto 100, Mann took her first Firestone Indy Lights victory just seven weeks later at Kentucky Speedway – where she led the race from start to finish. Mann scored three pole positions, four top five finishes, and a dominant win during the 2010 season, seeing the young Brit finish fifth in the driver's championship.
For further information or images please contact Hannah Griffiths at Palindrome Sports
Tel: +44 (0)7815 176587 / Email: Hannah@palindromesports.co.uk
Related Articles
Share
About Author