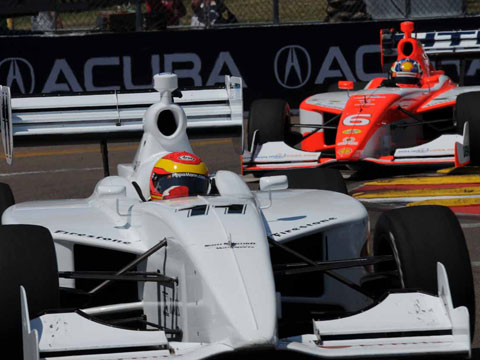 Pippa Mann scored a season-high eighth place in the Firestone Indy Lights, Grand Prix of Long Beach. Climbing four spots from the start of the race, Mann put in a strong performance at the Californian event, to take her first top ten finish of the year.
The race got underway without incident, and at the end of lap one, Mann was in 13th position, having just dropped a place to team mate James Winslow. By the halfway point of the race, Mann had worked her way up to 11th position, when Adrian Campos Jr. (Team Moore Racing) ran wide and into the tyre barrier right in front of the #11 Sam Schmidt Motorsports car. Mann responded immediately and managed to avoid any contact, moving herself up into the top 10.
From there, Mann continued to push, and where other drivers came unstuck around the challenging streets of Long Beach, Mann kept her composure. Finally crossing the line in a deserved eighth place, the young Brit achieved her best ever finish on a street circuit.
Mann commented on the result: "Overall I'm really pleased – while I've had results on ovals and road courses, we've never been so far forward on a street circuit. There were a lot of cautions, but I managed to make no mistakes and put people under pressure, which paid off in the end. Hopefully we can take this momentum forward through the rest of the season."
The result places Mann 10th in the point's standings going into the next race, when the Firestone Indy Lights drivers prepare for the 2010 Freedom 100 at the Indianapolis Motor Speedway.
© 2010 Salamander Motorsport
Related Articles
Share
About Author